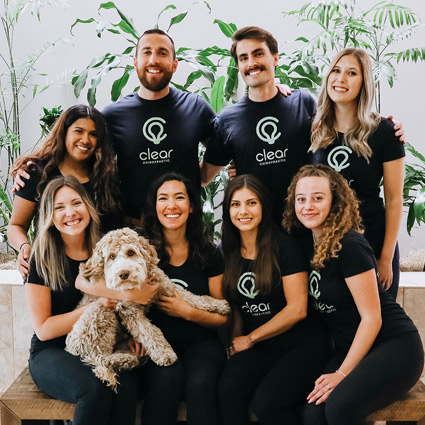 About Us
After graduating from Life Chiropractic College West, Dr. Joe and Dr. Eva visited various towns to see if one felt like home. They parked on a street in Chula Vista, let their dog out of the car and took a walk. "Everything felt right. We knew these were our people and where we could be our authentic selves," Dr. Joe explains.
It was evident-Clear Chiropractic was going to fit perfectly into this community. Dr. Joe and Dr. Eva are inspired to change the trajectory of life for multiple generations of families in our area. When your body is clear, you can make better decisions and have a greater expression of health in your life.
Making a Positive Impact
One family at a time, we seek to empower people and create a healthier community. We're serious about helping you meet your goals, but we're going to have fun doing it. Clear Chiropractic is a place of safety, support and connection. You'll never be judged for your opinions here. We meet every person with the unconditional love and joy they deserve.
Trust in Your Body Again
Every human being has an incredible innate potential just waiting to come out. There is an intelligence, order and organization that the body has. Chiropractic honors and nurtures that, allowing the body's recuperative powers to take over so that you can heal. When you're healthy, you can make more empowered decisions and achieve your greatest quality of life.
In any given moment, you have a choice. What are you going to do? You can be a victim of life or you can take control. Clear Chiropractic is the place you'll receive the guidance and support you need.
We have a deep respect and wonderment at the function of the human body. We'll nurture that and help you understand how to make sure your health is expressed at the highest potential.
MEET OUR TEAM
How Can We Help You?
Our patients include moms struggling with difficult conditions such as migraines and fibromyalgia. Through chiropractic, she has a successful healing story. The result is that she can be the mom she wants to be, that was always inside of her and just waiting to be unveiled. Though burned out and frustrated, she gives chiropractic a shot. With care, she can be the mom, colleague, partner, friend and community member she wants to be.
There have been children who would've otherwise been diagnosed with ADHD or put on medications for life that could be themselves, happy and healthy, with chiropractic. We can't wait to discover how we'll make a difference in the dynamic of your family!
Affordable Health Care
We want natural health care to be accessible to everyone. If you're interested in care but worried about your budget, we recommend that you get in touch. Contact our chiropractic office today to discuss how we can make care affordable for you.

About Clear Chiropractic | (619) 734-9327