Chiropractic Care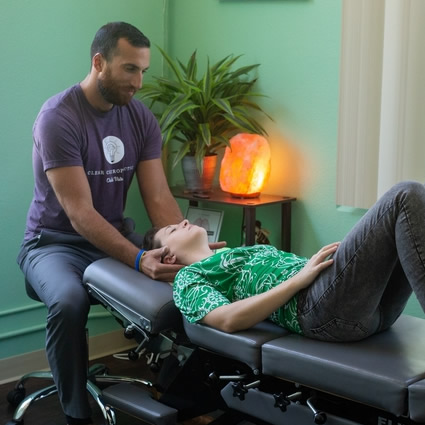 Your nerve system controls how you experience life. Your every movement and function are directed by the nerves. If there is interference with your nervous system, your body simply isn't as healthy as it could be.
That's where chiropractic comes in. Dr. Eva and Dr. Joe work with your nervous system so that you can have the best possible expression of life.
How Pain Sets In
Most people think of going to the chiropractor when they're in a state of discomfort. Pain is a result of the accumulation of the three types of stress: physical, mental and chemical. Physical stresses might be sitting all day or having poor posture. Mental could be the struggle of balancing work and family. Chemical include unhealthy foods and pesticides. As these stresses build up, you'll experience symptoms like pain and dysfunction.
Your body can't work as well as it should. Chiropractic clears out the accumulated stress, allowing your body to adapt now and in the future.
We customize our techniques to each individual. The methods we use include
Diversified
Activator®
Sacro Occipital Technique
Drop table
There is typically a blend we'll use during each adjustment depending on your preferences and what will get you the best results. We want to ensure you're comfortable the whole time. Your adjustment doesn't just involve your spine, either. We'll work on any area that needs attention, from head to toe.
How you hold your body matters. A digital posture assessment is done at your first visit to identify any imbalances. Posture abnormalities will be corrected as a part of your care plan. If you are an athlete, play an instrument or have a hobby like knitting where you hunch, we'll work with the particular positions you're usually in to improve your posture while you participate in your activity.
At your reexaminations, we'll do another digital posture assessment so you'll see your progress over time.
Every patient, even newborn babies, can have scans done with the INSiGHT™ Subluxation Station. The three computerized scans we take measure the stress on your nerves. We can identify your default stress and anxiety response, as well as which muscles may not be working like they should. There is no radiation involve and the testing is completed in about 10-15 minutes.
Get Started Today
Learn more about the benefits of chiropractic. Contact Clear Chiropractic today!
CONTACT US

Chiropractic Care | (619) 734-9327