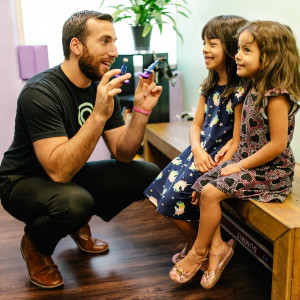 A looming appointment at the doctor's office can cause feelings of anxiety, fear, or trepidation. And that's also for adults, not just kids. "One of the biggest hurdles to get anyone to go to a healthcare office is that most people think of doctors' offices as having less than a warm and welcoming receptionist.
Add to that long wait times, a sterile, uncomfortable environment, and then potentially meeting with a provider who may not be warm and welcoming," said
Dr. Joe
.
To add insult to injury, doctors often include treatments and procedures that can be uncomfortable. Many kids fear visiting the doctor because they think they'll get a shot, or have to endure sitting in a cold, clinical space with unfriendly staff. The good news is that's not the case at Clear Chiropractic. There are no shots here—ever—and no unfriendly faces.
A Place That Feels Like Home
We set out to create a different experience for kids, especially families, making sure that our environment is incredibly warm and welcoming. We pride ourselves on creating an environment that feels like home.
"Patients feel like they're walking into a friend's house or their aunt's home, rather than a doctor's office," said Dr. Joe. Kind and caring, Dr. Joe, Dr. Eva & Dr. John are easy to talk to and connect with. They care about every patient who walks through our doors.
Making Visits Fun for Children
Our staff is amazing with kids and knows everyone by name. Children of all ages look forward to coming in, because we ensure that our practice is fun for them. Kids can enjoy healthy snacks and play with toys in the room. They can also color or work on a fun little project.
Whether they're here to get adjusted or their parents are, children aren't stuck sitting and waiting for a long time by themselves in a quiet room. Instead, they always have something fun to look forward to!
An Office That Smells Good & Sounds Good
While everyone wants their doctor's office clean, they don't want to be overcome by the smell of antiseptic disinfectant. At our practice, we have essential oil diffusers in each of our rooms, so you and your family can enjoy lovely aromas. With some 50 oils, our team will create custom "brews" each day, ensuring our practice always smells fresh and lively.
Music is also a huge part of our office, as it sets the tone for a great experience. Rest assured that our music is always family friendly, as well as upbeat, diverse, and fun. You may want to dance a bit, sing along, or tap your feet. If your child has a sensory or stimuli issue, we can turn down the music in any of our rooms.
'Can I Come Too'?
It's no surprise that most kids don't look forward to visiting the doctor. But here they do!
"We know we're hitting the nail on the head when a mom or dad says their child didn't even have an appointment, but wanted to come with them because they love coming here,said Dr. Joe.
Because our pediatric patients enjoy visiting the practice, they can get the care they need to experience optimal health.
Dr. Joe, Dr. Eva & Dr. John look forward to caring for you and your kids! Give our practice a call today to book an appointment!