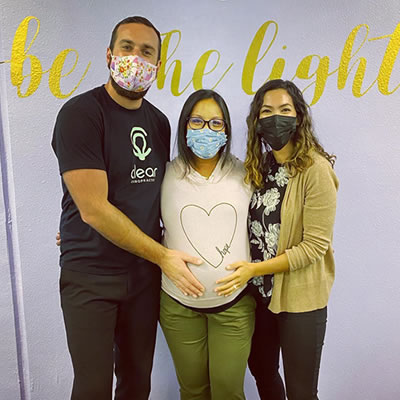 In our world today, there is a serious lack of support for pregnant women. It breaks our hearts to see that pregnancy is often regarded as a frightening experience, versus a magical one.
One of the things that fires us up the most to come in every day and serve moms is when we see them go from feeling disempowered to having that glimmer in their eye and knowing, "I can do this."
We think we can change the world, one mom at a time.
The Three Goals of Pregnancy Care
There are three separate ways we work with you throughout pregnancy and the postpartum period.
The first is that during each trimester, we want to make sure you have the highest possible level of comfort.
The second is to help your labor process go more smoothly, which studies show is possible when you're under chiropractic care.
The third is to speed up and enhance your recovery process after birth.
Get Rid of That Fear
Our care is about your physical and mental well-being alike, increasing your resiliency in both areas. During labor and birth, you need to feel confident and supported, not to mention connected to the birthing professionals around you.
If you don't feel safe, it will put your body into a state of stalling, creating problems for Mom and Baby alike. That's a natural reaction-you're doing something profound, and if your body and brain don't feel secure doing it, it won't move forward.
That's why we'll work with you on the choices you have: where you want to give birth, how you want to do it, who you'd like to assist you and how the environment will feel.
You won't just have a better pregnancy-you can design the birthing experience of your dreams, using us as a resource and support. Let us help you get there!